Speaking
Keynote Speeches, Half-Day & Full-Day Programs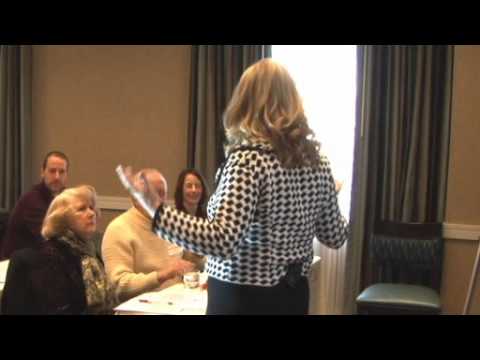 Award winning Master Certified Life Coach Deirdre McEachern is an internationally recognized expert in life satisfaction. Deirdre has helped thousands of people all over the globe dramatically improve their lives. She has entertained and educated audiences with step-by-step strategies for creating lives that reach their full potential. Deirdre's programs appeal to both male and female audiences alike and are chock-full of real life examples, humorous tales and inspirational moments.
Deirdre McEachern's interactive presentations act as an accelerant to help audience members produce long awaited changes in their lives. Through knowledgeable insights, challenging questions and inventive solutions, Deirdre creates a motivational atmosphere where the audience is inspired to take action toward their goals. Throughout her upbeat presentation Deirdre uses practical examples and plenty of humor. The results for the audience are:
New ideas for improved work life balance.
Learning how to work smarter and retain more energy.
Live coaching for personalized strategic action plans.
Innovative concepts for better managing their time. Live examples of how to communicate powerfully yet gracefully in order to get desires met.
VIP Coaching is one of only 5 coaches recommended by Fast Company and Inc. Magazine's Executive Coaching Directory!
You Only Live Once: Create the Life You Want
Are you ready to take the reins and upgrade your life? Maybe find a better career? Carve out some time for yourself? Or have more fun with friends and family? If so: help is on the way!
During this unique and powerful presentation based on Deirdre's new book, You Only Live Once: Create the Life You Want, you will have your chance to determine, design and create the life changes you want – starting today.
Your audience will learn to take charge of life and regain control over how and where they spend their two most valuable resources: time and energy. This program is for busy professionals, high achievers and anyone wanting more from their lives. If your organization is looking for practical exercises, real life examples & thought provoking, upbeat discussions along with a little kick-in-the-pants motivation call today.
Finding the Courage to Take Risks
What is risk other than the deepest urge for growth? Risk is an expansion of our selves, our abilities and our environment.
If your organization members need the courage to be more innovative by taking more risks, this is the program for your event. In this engaging and step-by-step presentation your audience with learn what factors often block risk-taking, how to use risk in strategic, effective ways and gain the certainty that the risks you choose to take will ultimately pay off. You cannot create change without risk.
Creating True and Lasting Life Balance
If your group members are feeling the wearing effects of today's fast paced working world, this program will be a breath of fresh air. Master Certified and Award-Winning Life Coach Deirdre McEachern shares her secrets on how to attain real work life balance. Based on over a decade working with individuals from around the globe, Deirdre offers practical insights, humor, and real world take-away strategies the audience members can begin using immediately. Life can be a juggling act, and this program shows audiences how to approach work life balance in a highly effective, fun and uplifting way.
8 Steps to a Identifying Your Ideal Major and Career
This program is specifically designed for college audiences in which students are working to determine their appropriate degree, graduate degree and ultimate career. Often this presentation is combined with prior administration of the Highland's Natural Ability Battery offering attendees detailed personal insights into their innate talents and best path for long term success in a career field.
Five Common Traps that Trip Up Great Employees
Is your organization full of great people and great employees? Give them the gift of this program at your next event. They will learn in five clear steps on how to be more effective, more valued, more creative, more confident and better connected to their peers. Everyone wants to be their best and this program is an inspirational, uplifting program showing these great people how can enjoy their work while becoming even more successful.
To book Deirdre for your event, please call VIP Coaching, Inc. at 207-439-4280 or send an email to Deirdre@vip-coaching.com.
Partial U.S. Client List:
Amazing Woman's Day
Central MA Auto Rebuilders Association
The Center for Women and Enterprise
Abbott Laboratories
The Women and Business Connection
The International Coaches Federation, New England
The Chamber of Commerce
EMC2 Corporation
Compaq Computers
Massachusetts Alliance of Automotive Service Providers
Fallon Community Healthy Care
BASF, Inc.
Iris Graphics, Inc.
Honeywell International, Inc.
The North Shore Women's Roundtable
Deirdre has also led trainings and workshops for people in the U.S., Europe, Australia, the Philippines and India.
Details for Meeting Planners
I am honored to be a part of your event and look forward to it. Please let me know if there is anything I can customize for your organization to make your event a success.
Travel Arrangements
Hotel: Please secure a non-smoking room with guaranteed late arrival the evening before the presentation.
Transportation: My office will arrange full coach air travel and send you the itinerary. Expenses will include airfare, meals, ground transportation to the airport in both cities, and gratuities.
AV Requirements
I need a wireless lavaliere microphone.
I also need at least one wireless handheld microphone for audience participation depending on the size of the group.
If your organization would like me to use slides I will need an LCD projector and screen.
Handouts
Handouts for the participants are complimentary.
Every participant will receive a complimentary copy of the book, You Only Live Once: Create the Life You Want.
Book Signings
A book signing after my program is a nice way for me to connect with audience members. I am happy to do this for 30-45 minutes at the conclusion of my program. Please provide a six-foot skirted table and at least one chair for this purpose. A volunteer or staff member is helpful to have available during these signings.
Media
I have media experience and will be happy to do complimentary radio, TV or print interviews to help you promote your event. Please call the VIP Coaching office to arrange details. (207-439-4280). See my media kit at www.vip-coaching.com/media for high-resolution images of the book, a headshot and my bio.
Refreshments
Please provide drinking water on stage and at the book signing table.
Testimonials
"Deirdre is a thoughtful, energetic and extremely well versed speaker. She is talented and confident enough to engage all her audience members and motivate them to action." -Erika Croteau, The Boston Society
"Deirdre's experience and skill as a public speaker is evident as she engages her audience, holds their attention, and gives meaningful information for listeners to apply to their lives." -Mary Garcia, Leapforward, Inc.
"Overall, the best program I have taken. This course actually exceeded my expectations. Very well done and very entertaining. Deirdre was very inspirational; I will take back what I learned and apply it within our team environment. Great program. Thank you!"
-Susan Jackman, EMC Corporation
"Deirdre – thank you, I really enjoyed your teleseminar. I am still thinking about your comments! Thank you again." -Nancy Collins, Executive Women International
"Deirdre, you are the best at MC'ing our meetings! I always look forward to seeing you."
-Anne Cushman, The Women In Business Connection
"Deirdre is a friendly, organized, proficient, and not afraid to give frank feedback. Deirdre always went the extra mile to ensure the success of our program. If you are looking for someone committed to the success of her clients, look no further than VIP Coaching."
-Lane Desborough, Vice President, Honeywell Hi-Spec Solutions
"Hi Deirdre, what a great seminar on Saturday! I thought you did a fantastic job, and I found the exercises and material very helpful. Thank you!"
-Karen Tasker, Phillips Academy
"I really enjoyed your program Saturday! Thanks… lots of good information and a good nudge for me and others to keep aiming ahead."
-Cheers, Sarah Pitt-Wooll, Hampton Inn and Suites
"Great presentation! So many people wrote in to say they completed their first action item! Thank you!" -Claudette Rowley, Meta-Voice Coaching and Consulting